Tile Painting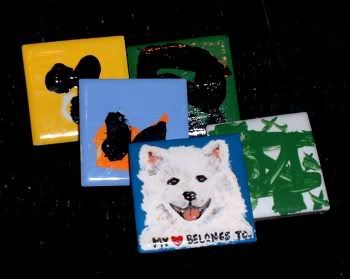 Tile painting is SO much fun, particularly for kids because they can put their art on the refrigerator and see it daily. It's also a very inexpensive way to make gifts. You can make great pieces in about an hour! I did the Samoyed magnets years ago to help Samoyed Rescue. Tiles are great for fundraisers and craft shows.
I cheat. The pieces used (above) did NOT use tile or glass paints, such as PermEnamel. I simply used acrylics! (and they have last ten years so far, by the way.) The secret is putting a base coat of VARNISH on the tile. (Again, the Delta Ceramcoat Indoor/Outdoor Glossy is what I use) Then just paint on top of it. The paint will stick.
Why have a masterpiece on front, and dullsville on the back? Glue a piece of felt onto the tile, then glue your magnet. I wouldn't use school glue, you don't want to take a chance on your artwork falling and shattering on the floor. If using super glue, don't let the kids do that, an adult should handle it. (and beware the odor of the E6000, it's STRONG!)
Flowers, balloons, confetti with swirled streamers and dots, and smiley faces are some fast and EASY magnets. Remember, the smaller the tile, the more simple the art has to be if you're not a proficient sketcher. Have fun!